Ecosystem maps of local international talent services published
Welcome back to our blog!
This autumn (2023), we continue to publish results from our research work. As a brief reminder, one of the key objectives in HIWE is to study how highly skilled internationals experience living, working and being an entrepreneur in Finland. We want to learn about both the positives and the negatives that come up in their experiences.
To render this research knowledge useful, we also chart the policy measures and the actors that guide and offer services to internationals nationally and locally.
The results are used to make policy recommendations to improve internationals' opportunities to find employment, become entrepreneurs and generally integrate into Finnish society.
Mapping policies and local services
When we started researching the lives of highly skilled internationals in Finland, we were interested in both their own experiences and how society meets internationals and responds to their needs.
The importance of the latter resonates well with the interview data we have collected. The internationals' stories reveal a lot of good experiences but also challenges related to, for example, learning Finnish language, looking for jobs, participating in recruitment processes and suffering from lack of social contacts. Read their stories here.
In the second phase of the research, we set out to examine how the services aimed at internationals resonate with the challenges raised in the interviews. We have done this work on two levels, by mapping what kind of policy measures and development projects have been carried out in recent years that promote services, and by finding out how they have been implemented locally.
To get an idea of the local implementation, we have mapped the service-providing ecosystems in four cities, Helsinki, Kuopio, Tampere, and Turku and have now published a map for each city that describes their most important services, actors and networks. You can check out the maps here.
As to the results of the policy analysis, we will return later.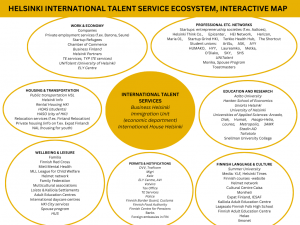 Ecosystem maps of key services and actors
The published ecosystem maps portray mainly local (public, private, third sector and voluntary) actors but also some key national actors and networks which have regional or local representation.
In the maps, the actors are divided into different categories based on the character of their activity, for example: work & economy, education & research, Finnish language & culture, wellbeing & leisure.
More detailed information on actors is available through the attached links.
Our hope is that the information collected in the maps would be of practical use to internationals, as well as involved actors and authorities, researchers, and the media. If you are interested in a particular field of activity, or require a particular service, you can look for the providing actor(s) and information on them on the map.
The four maps illustrate what kind of multidimensional and constantly expanding field the actors working locally with highly skilled internationals constitute. The service ecosystem is already quite extensive, at least in the four mapped cities.
This is interesting to notice when we think about the experience shared by many internationals that their service needs related to working life and social integration are not met by society as they should. "Nothing ever changes in Finland", many or our interviewees stated, and this sentiment is regularly echoed on the social media too.
We therefore need to ask the important question, how well do the services really manage to reach the internationals and respond to their needs. Do internationals know about the services? Do they find them functional and useful?
We will come back to these questions later in the fall. Stay tuned!